Versión 6.0 (actual)
10 de Agosto de 2021:
Nuevo display de listado de transacciones:
Botón de comprar o vender.
Íconos de métodos de pago.
Banderas de países.
Nuevo acomodo de montos de transacción.
Transacciones en disputa de una manera más clara.
Avance de transacción de una manera más clara.
Vistas mas responsivas para todos los dispositivos.
Inicio de sesión con datos biométricos (huella y Face ID).
Inicio de sesión recordando tu cuenta con email.
Nuevo formulario para crear ofertas de compra y venta.
Opción para compartir tu address con otras aplicaciones.
Subir evidencia para todos los dispositivos (antes no se podía en iOS 14).
Nuevo loader con el ícono de Syklo.
Nuevos mensajes de alerta con textos más claros y nuevo diseño.
Fix en iOS: app se cerraba inesperadamente.
– Fix de un conflicto con correos muy largos que causaba una alerta.
– Fix de un bug que impedía realizar algunas transacciones.
– Fix de un bug con algunos métodos de pago.
Versión 5.0
21 de Junio de 2021:
Se agregaron push notifications en segundo plano para dispositivos Android.
Se agregaron métodos de pago para cuba: QvaPay, Tarjetas MLC.
Versión 4.9
03 de Junio de 2021:
Se agregó un método de pago para Venezuela: Pago fácil.
Se agregaron dos métodos de pago para Cuba: Qvapay y MLC.
Versión 4.7
07 de Mayo de 2021:
Se agregaron "push notifications" para algunos dispositivos.

Se agregó una función para poder vender todo el DAI disponible.

Se agregó un mensaje de aviso al levantar una disputa: "resolver una disputa puede tardar hasta 2 días hábiles".
Versión 4.6
29 de Abril 2021:
Se agregaron nuevos métodos de pago: Skrill, Payoneer, Transferwise, Airtm.




Se agregó la opción para rechazar a un trader cuando haces una venta de DAI.




Se agregó un filtro de transacciones por país.




Se puso un límite de tiempo para levantar una disputa. No se pueden levantar disputas de transacciones que no tengan por lo menos 24 horas de haber sido aceptadas.
Versión 4.5
Se integraron nuevos países para realizar transacciones: España, Italia, Alemania, Inglaterra y Suiza.
Se hizo una re-estructuración de los métodos de pago, para mostrar los métodos de pago disponibles en cada país, además de que se solicita información más específica de acuerdo a cada método de pago.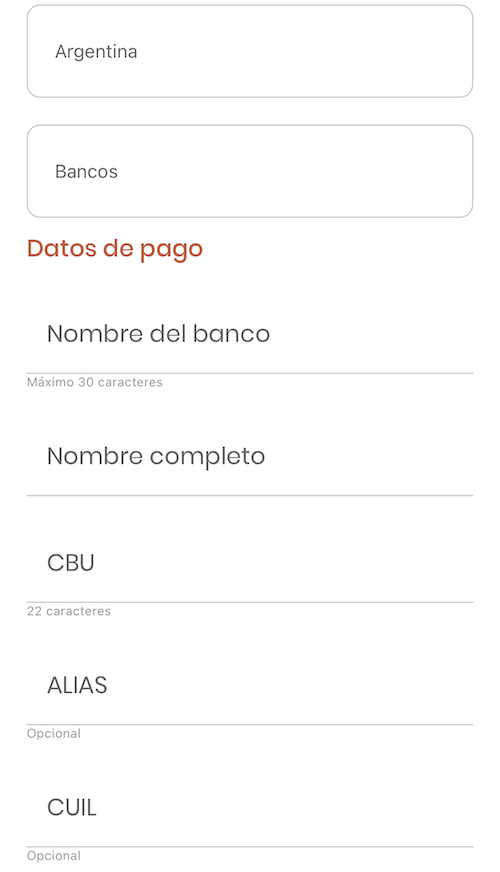 Versión 4.4
Se arregló un error que no permitía a los usuarios terminar su registro si no se completaban todos los campos desde el inicio.

Se eliminó una validación que no permitía a usuarios comprar DAI si no tenían fondos.
Versión 4.3
Se arregló un error que no permitía a los usuarios ver su balance.
Versión 4.2
Se agregó el cálculo del precio unitario del DAI en el listado de las transacciones
Se simplificó el flujo para enviar fondos
Se agregó el mail de la contraparte para poder ponerte en contacto con él
Se arregló la interfaz del los resultados de una disputa
Se agregaron validaciones de correos electrónicos en los formularios de métodos de pago
Se corrigió un error al cambiar de idioma
Versión 4.1
Users can now optionally upload images as evidence.
A notification has been added to remind users of the importance of not forgetting their PIN.
Error messages have been updated to improve comprehension.
A countdown timer has been added to indicate users when can they continue with their transaction.
Version 4.0
The app icon was updated for a white background version with better resolution.
Clarification message that fund withdrawals must be done through the BSC network (BEP20).
Included special character compatibility in passwords.
New E-Mail notifications.
Changed the term "remittances" to "funds".
User names are now shown in market offerings, instead of user E-Mails for increased privacy.
Fixed bug issue that showed jury resolved disputes as pending transactions.
Corrección del bug que marcaba como pendiente una transacción en disputa que ya estaba resuelta por el jurado.
Versión 3.9
Method of payment validations in buy and sell forms.
Buy and sell validations in transactions of at least 1 DAI.
Versión 3.8
Dai balance is now shown on the header.
Password can now be made visible.
Solución de error al hacer logout.
Country listing was reduced to show only the most relevant at this time.
Versión 3.7
Terms "add funds" and "withdraw funds" have been changed to "buy" and "sell" respectively.
Copy functionality has been added in payment methods.
Sessions now stay open on Android devices while changing apps/screens.
Spanish translation of transaction "status" has been added.
Versión 3.6
Users can now modify exchange rates.
A notification has been added indicating a transaction is in process after being resolved by mediation.
Incomplete payment numerical data error has been corrected (Zeros on the left where not shown).
Versión 3.5
Improvements in UX and informative texts about commissions.
Improvements in exchange rate inquiries according to buy/sell spreads.
Versión 3.4
Notifications have been added about proposals.
A button return button that takes you back to the offers screen has been added on the waiting screen.
Local currency to DAI conversion on the offers card.
E-Mail notification corrections.
Current step number is now visible on the card to help users identify how far in the transaction process are they.
In process
Push notifications.
Users who join through google, twitter or Apple ID will now be asked to create a username.
A default username will be generated based on the E-Mail used in new accounts created through Google, Twitter, Apple ID, etc.
Your counterpart E-Mail will only be shown in "my transaction" cards and not in the marketplace.
Solve refresh and updates in offers and transactions without the use of a "pull down to refresh".
Stop the app from failing when a session has expired.
Add Syklo's logo to E-Mails.
Eliminate obligatory validation while uploading an image to a dispute process.
Validation (alert) notification when local currency amount has not been added.
Validation notification when no method of payment has been selected.
Pending Spanish translations for errors and notifications.
Include a refresh button when no transactions are available and "pull down to refresh" is not possible.
Include notifications for users who need to disburse in order to conclude a dispute.
Improve E-Mail validation method on payment methods (verify @ y .).
Further emphasize that PIN numbers are unrecoverable and indispensable for wallet access.
Unitary DAI price to be shown on cards.
Modify "continue withdrawal" button to spell "continue sell".
Show orderly notifications in data input.
Limit payment method fields.
Include facebook sign up and sign in.
Include E-Mail Spanish translation.
E-Mail language should correspond to app language.
E-Mail verification during subscription.
Include user reputation score.
Include "Mercado pago" QR payment compatibility.
Send back transaction to available in case of it being rejected.
Seed phrase wallet backup.
Referral program.
Avoid zoom and text size modification inside the app.
Include a "Max" option to include all available balance.
Biometric log in.
Include transaction ID.
Fix IOS scroll issue during registration.
Include a time limit for transactions.
Include a time limit to start a dispute.
Include a messaging or chat system to contact the transactions counterpart.
Include saving system for commonly used data.
Include compatibility with 2FA.
Include cards to clarify if operations are "buy" or "sell".
Include the possibility to partially cover an operation.
Include the option to link Binance wallet with Syklo.
Hide payment option in main menu.
Improve on "dispute/mediation" process instructions.
Include "Payoneer" as a method of payment for Argentinian users.
Include country and currency filters in "offers" section.
Scan the QR code on your cell phone or visit this page on your mobile and press the following link